Give the Adams Idea Ladies Golf Clubs a go, and you might just get "hooked" on them!
If you've been looking for Adams Idea Ladies Golf Clubs, know they come in a couple of different styles and colors but all have all the same great characteristics. The set comes with everything you need to head out onto the course for a round of golf, minus the balls and shoes!
The new Idea Women's Set incorporates a new technology specifically created for "easier to hit shots". You'll have more fun playing when you hit decent shots, and that's what these clubs were built to help you do.
Your game will become a lot more enjoyable when your game improves, and using this type of club design will help do just that.
… and to top it all off, these clubs have a great look – One of my favorites for Style!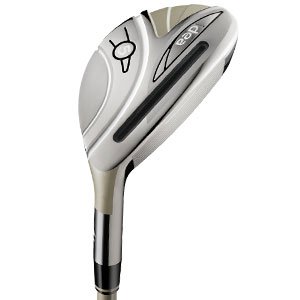 What's In The Set?
Driver
Three Fairway Woods
3,5,7 Woods
Hybrids – 5,6
Irons – 7,8,9,PW,SW
Putter
Bag & Headcovers
The Hybrids use the New "Cut-Thru" slot design on the sole of the club which makes for a much faster ball speed and height, while adding extra distance on "off-center shots".
The low center of gravity on these clubs makes for much higher launches, and really performs when it comes to forgiving those crappy shots we all make.
Shafts:
Idea Grafalloy 45g Wood Graphite Ladies
Idea Grafalloy 50g Hybrid/Iron Graphite Ladies
Idea Women's Grips
---
About 90% of all Reviews (and I've looked at a lot) I could find on these Adams Idea Ladies Golf Clubs by users have been very impressive to say the least, and appear to get a pretty high rating.  The one bad point I came across had to do with the Driver – it's durability and performance. … hmmm – come on Adams!
Most have reported an improvement in distance and number of strokes for the round. Women seem to enjoy the feel and weight of these golf clubs. That's all pretty good.
PGA Show – Best selling Adams Women's Golf Package Sets for the Year!
You can really SAVE Big Time since these are not the current years model, and just like cars, companies like to move the old out to make room for the new.  But you know what? They're awesome clubs! I don't mind one little bit that they came out in 2014, and neither will you. They PERFORM great, and the savings should help seal the deal. Hundreds of $$$ can be saved this way!
PROS
Driver is very easy to hit
More forgiving with greater distance and loft
Features:
C-Grove Technology
Easier to hit shots
Great color
CONS
Some have complained about the Driver not being as good as the fairway irons and hybrid woods.
Great set of clubs!

I wanted a women's set that wasn't pink or teal. This set looks great and, even better, plays great. This was my first set with hybrid irons and I thought I'd have a hard time adjusting but it has been easy peasy! The bag is nice too. LIghter than most bags and easy to get in and out of my car. All and all a wonderful set of clubs.
Average to AMAZING

I have been an average golfer for years with the potential to be a pretty good golfer. I didn't want to spend the money for good clubs because I thought I wasn't good enough and couldn't justify the expense. I tried a friends driver during leagues and was blown away by how far I could hit the ball. These clubs brought my game to a new level. My friends are in awe of how I hit with these. I don't think I have had a bad drive yet. The are super light and easy to use. LOVE THEM! I can't believe I waited for so many years to splurge on myself. Don't wait, good clubs can make a world of difference in your game. My only complaint was that I didn't seem to get carrying strap with the set. I looked in all the pockets and found nothing.
I love them already

I just purchased a new set. I love them already! The new technology that comes with these clubs is amazing. Love the colours they come. Mine are rhasberry. No doubt they will improve my game, especially that they expand the sweet spot on the club face.