The Most Important Golf Asset – Your Golf Clubs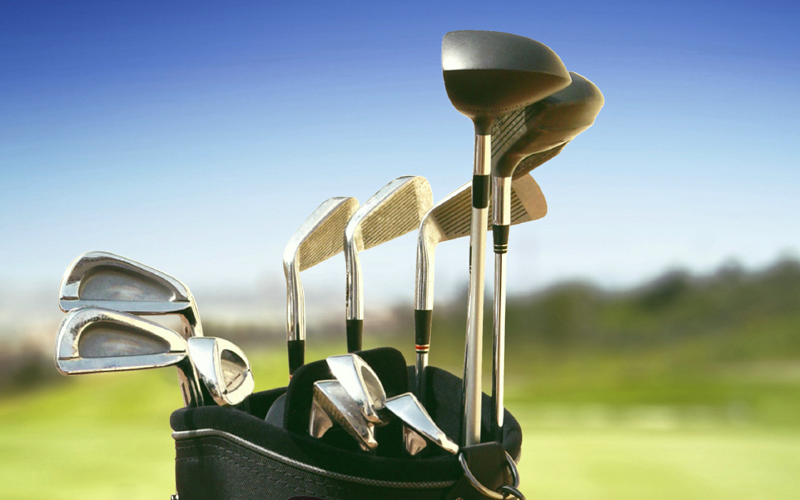 Simply put, the best women's golf clubs are the ones that fit YOU personally.  
Clubfitting is the ultimate for sure, but costs can push some away.  If you pay attention to some key points, you can successfully find your "perfect set" anywhere.
Golf courses across the world are becoming more women-friendly and has helped grow the game of golf for women everywhere. Using the proper ladies golf clubs can hugely improve your enjoyment of the game.
As more women pick up the sport, there becomes an increasingly overwhelming list of options for types of golf equipment to purchase. This can be especially daunting if you are new to the game. The last thing you want to do is buy a set that seems to impress your friends, but does nothing to help boost your performance.
Finding The Best Women's Golf Clubs for You!
It's an individual thing, so it's critical to do some research. Clubs that are either too short or too long can make your swing pretty awkward. You want a set that improves your shot accuracy and feels great.
Consider swingspeed, height and arm length.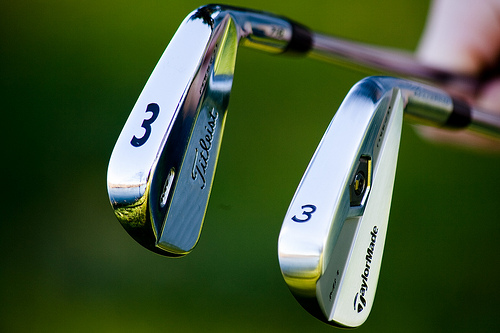 Things to think about when shopping for your next set of golf clubs, and my picks for quality women's clubs.
SWING SPEED – the slower your swing speed, the more of a need for lighter clubs and shafts with "give". In other words, graphite.  You need a faster more powerful swing to adequately handle the steel clubs.
Your height and arm length are factors that cannot be dismissed.
We touched upon this subject before on the Women's Golf Clubs post, but wanted to go thru a few of these points again and in more detail.
#1  Consider Your Objectives
Before you head out to buy a set of women's golf clubs, you want to first assess your goals. They should be realistic in order to feel more powerful while shopping. If you only plan to play several times a year, then you don't need to spend much time picking out the perfect set. On the other hand, if you plan to play as often as you can, then you want to be more vigilant in your search for the right equipment.
#2  Decide on Your Budget
There are very expensive golf clubs and some that are more budget-friendly. Initially, you need to decide how much you can comfortably spend. Beginners should start out with a relatively inexpensive set. A used set might even work, if they feel comfortable. Not to mention, you won't feel too guilty if they need to be replaced.
#3  Think About the Shafts
The first thing you want to notice is the shaft composition, which will usually be either steel or graphite. Then there is the shaft flex, which is how much the shaft bends during your swing. Steel is more durable and affordable, although graphite is lighter and can help speed up your swing. Moreover, graphite shafts can have a softer flex–which, seems to work well with women and seniors. Many novice golfers often find out they use shafts that are too stiff.
Don't forget as well, that all types of shaft materials will have a different "flex", and you will want to choose depending on your swing speed and the feel you want.  In other words:
ladies and seniors shafts – most flex

regular flex shafts

stiff shafts
extra stiff shafts
The chart below gives some general characteristics of materials used in golf club construction.
Both Shafts and Club Heads are made in these materials.
Metal Type
Pros
Cons
Steel
Usually less expensive than other materials and will last a lifetime when cared for properly, however are the heaviest of all golf club materials.
Generally used by more proficient golfers with a faster and more powerful swing, and the added weight helps improve accuracy of any shot.
Can produce vibrations which travel up the shaft and extend into the hands, arms and shoulders.

Because they do not absorb any of the shock, it can be quite unpleasant on an "off-shot".

Graphite
These clubs are lightweight and flexible. They are good for women with a slow swing speed because they increase distance and accuracy.
They are less durable and may need to be replaced more frequently than clubs made from other metals.
Titanium
These are much stiffer and heavier than graphite or steel and are often used by the better and more powerful golfers.  Accuracy and distance will be improved.  Super hard material and lighter than steel.
Extremenly loud at impact (when using titanium head) and very stiff and harder to hit with for the  average and new player.

Tend to be on the expensive side.

Choose What's Right for YOU!
Don't Buy on Looks Alone!
#4  Visit Your Golf Pro Shop
Speak with staff members and let them know your purpose for buying a set of ladies golf clubs.
Give them exact details of how long and how often you have played the game.
Have you ever been out to play?
Have you taken several lessons?
Have you played multiple rounds and want to keep going?
What you should look for are golf clubs labeled "super game-improvement". These are designed to help minimize the effects of having a rougher golf swing. They will usually have you hold the clubs in your hands to see how they feel when you swing.
You want to test out each club to see how they feel. Furthermore, clubfitting may turn out to be your best option for the "ultimate fit" and only takes around 30-45 minutes, but is well worth the effort. Many times, clubs and pro shops will offer a free fitting if you correspond by purchasing your new set from them. You may then hit with dozens of variations of a specific club, such as a Ping 6-iron. The purpose is to find the best mix of loft, lie angle, shaft, grip, swingweight and more.
#5  The Ladies Golf Set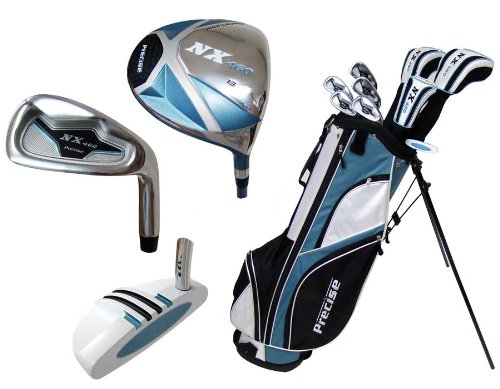 Equipment for women is made with the same technology as those for men, but there are some differences that are based upon different body types. To illustrate, most of the best golf clubs for women are composed of graphite shafts, which are much lighter than steel with a softer and better flex. Also, the shaft length of women's golf clubs tends to be shorter than men's clubs of the same designation.
The standard woman's driver is around an inch shorter. Popular brands such as Ping and Callaway have options that are 2 inches shorter. Since most women have smaller hands than men, golf club sets also have smaller club grips. Women's golf sets are also often lighter with a higher loft that has smaller and lighter driver heads. A standard women's golf club set would have:
Typical Golf Clubs in a Set
Three woods – driver, 3 wood, 5 wood
Seven irons – 3,4,5,6,7,8,9
Two wedges – pitching wedge, sand wedge
A putter
Many today will drop the 3,4, and 5 irons for Hybrids or utility clubs, which are much easier to hit than the longer clubs.
The Rules allow for no more than 14 clubs in a bag, so keep this in mind too.
Updated July 11, 2016
Fourteen clubs are the maximum allowed in one player's golf bag during a round played under the Rules of Golf. Any number below 14 is fine, but more than 14 is not. Also, those 14 clubs cannot be changed during the course of one round.
You can read more about golf clubs and their composition here.
#6  More Tips
If you are still unsure, it helps to take more time for research. Read ladies golf club reviews or ask family and friends for recommendations. When you're on the course, take a look of what other players are using. You also want to do a bit of comparison shopping. If you do settle for a used set, make sure they are in good condition.
When it comes to buying golf equipment, they don't have the be the fanciest or the most expensive. What is most important is they feel good to you and improve your game. With research, help from fellow golfers and your local golf pro shop, you should have the perfect set in no time.
Some of the best women's golf clubs – you can read the reviews of each set at Amazon and receive some of the best deals online.