Callaway Strata golf clubs for women have been increasing in popularity for quite some time now, so lets take a closer look into why this may be so. Callaway Strata golf club sets are an easy "in" for those just beginning the game wondering what might be appropriate starting out, and beyond.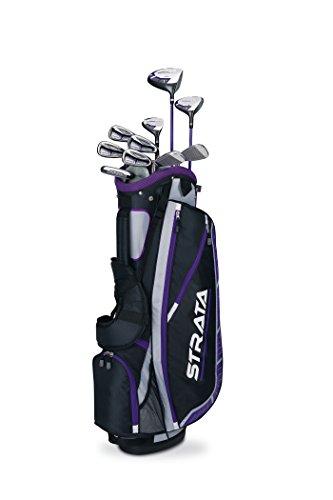 There is absolutely no denying Callaway are some of the best golf clubs on the market. They have been producing and manufacturing golf clubs since the 1980's, and has claimed the status of "par excellence" – no pun intended!  But a name alone guarantees little, the product must prove it.
Callaway has become the #1 selling golf club manufacturing company for a very good reason, and it has been proven time after time after time!  A Callaway set of golf clubs is my own personal "dream set".  Going to ask Santa (hey, I've been good!)
But not all Callaways are going to be on the pricey side. There are some very reasonable models out there, and the Strata is one of them.
We'll cover the Strata, and the Strata Plus.
Women's Callaway Strata Plus Golf Clubs
---
What's included?
10  Golf Clubs (total)
Strata Golf Bag
Headcovers – Driver, 5-Wood, 5-Hybrid
Golf Clubs Include:
Driver
5-Wood
5-Hybrid
6-PW, SW
Putter
---
Driver & 5 Wood
The Driver and 5 Wood have a sweet spot that is very forgiving, and a graphite shaft that helps achieve greater distances.
Hybrid 5
The Hybrid 5 is a terrific alternative for the low numbered clubs or "long irons".  It's extremely versatile and so much easier to hit than the difficult irons mentioned.  Back in the day when my golf bag included the 2 thru 4 irons, I actually did pretty good with them since I had a mental block with fairway woods, but I don't even think about those clubs much anymore since the dawn of the hybrids – awesome!
Irons & Wedges
6 thru 9 iron
PW (pitching wedge)
SW (sand wedge)
Irons have graphite shafts.
These irons have perimeter weighting and progressive sole width technology. This gives improved control of your shots, and lets you swing with confidence.
Putter
Mallet type putter with T-Style alignment.
Steel shaft.
I find a putter with some sort of guide incorporated really lends itself to straighter putts.
Strata Stand Bag
Lightweight and durable. This "stand" type bag comes with 5 pockets so youll have plenty of room for all your important "stuff".  A "rain hood" for the Strata golf bag and a backpack strap system are part of the package – … for weather protection and carrying ease.
These Callaway clubs are designed to fit players with the height of 5'3″ – 5'7″
This is the full and complete set, so you'll be able to head out onto the course with everything you need. These clubs combine the forgiveness most women want and need, along with added distance! Not to mention the appealing look and style.
Prices range roughly from $279-$400
Perfect clubs for a woman beginner
By Pat B

"I am 65 and just learning golf. When I decided to purchase clubs, I researched what to look for in clubs for women beginners online and asked my golf pro. These clubs had it all, and even my golf pro agreed they would be perfect for me. So I ordered them sight unseen, and have not regretted it.

These clubs are light weight, easy to handle and very forgiving. I can carry the bag loaded with clubs, balls, etc, with one hand and easily put it in the trunk of my small VW. They are very forgiving. The length is just fine for my 5'7″ height. I cannot recommend them highly enough. And after 6 weeks of lessons with them, I can hold my own in a round of golf with other ladies at my club. I expect these will be the last set of clubs I will ever need."
Find out more about what people are saying about the Callaway Strata Plus at Amazon
Women's Callaway Strata Golf Clubs (Standard)
These Callaway Strata golf clubs for women are slightly different than the Strata Plus.
What's included?
7  Golf Clubs (total)
Strata Golf Bag
Headcovers – Driver, 5-Wood, 5-Hybrid
Golf Clubs Include:
Driver
5-Wood
5-Hybrid
7,9, SW
Putter
The major characteristics of these clubs are pretty similar to the Strata Plus, but with a different look.
The Driver & 5 Wood both have graphite shafts for greater distance & a forgiving sweet spot for improved accuracy.
Hybrid (5H): Very versatile and forgiving – this club will be replacing your "long irons", which can be extremely difficult to hit.
Irons/Wedges (7,9,SW): Perimeter weighting with a progressive sole giving you greater control.
Putter: Mallet with built-in T-Style alignment – results in greater accuracy.
Stand Bag: Lightweight and durable – generous storage for all your golfing paraphernalia.
Find out more about what people are saying about the Callaway Strata Standard at Amazon
Prices range roughly from $199-$275
Callaway's Strata Models – Side by Side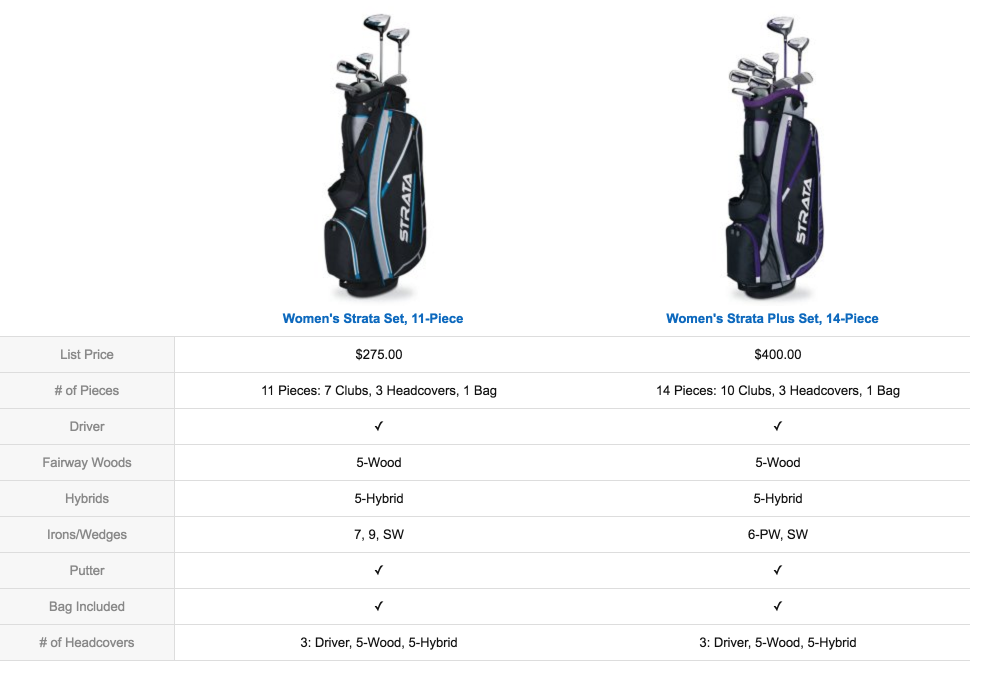 I hope this information about the Callaway Strata Golf Clubs for Women has been helpful for you out there who are considering Callaway.  They have an excellent line-up of higher end models as well which we will be getting into in another article.  These are great for those just starting out or are on a limited budget.