Lydia Ko is making her way to being one of the most "awesome" golfers ever on the LPGA!
With her 2014 rookie year she began an unbelievable streak that would take her all the way to be this year's ANA Inspiration winner and a total career earnings of $5,893,957!  Outstanding!
At the age of only 19 as I write, Lydia is on her way to a very impressive and record breaking career stats leader – that has already been shown in what she has already accomplished.  You can read more about Lydia at the LPGA.
So, I wanted to know…
What golf clubs are in Lydia Ko's Bag?
What Else – Callaway!
Well, it's no big surprise in my mind.  Callaway is the "cadillac" of golf clubs and when my pennies are saved, it's my brand of choice.
Now of course, Lydia is a sponsor of Callaway, but she wouldn't be if she didn't believe in them in the first place.  Short and sweet, THEY PERFORM!
Not that all the clubs in the bag are't important, they absolutely are.  But I just want to to talk about the Driver and the Putter right now.  In my opinion, two of the most valuable clubs in the bag.
XR 16 Pro Driver
The XR 16 Pro Driver is beautiful in looks and function, and gets results from almost all who have used it.  I've been scanning reviews and everyone agrees – it's faster (club head speed), gets more distance and is quite forgiving.  Lydia uses a men's club (of course, she's a pro!), but this same driver comes in women's as well.  Don't forget, any "man's club" can be fitted to a woman – we go into that on another post of men's vs women's golf clubs.
You can get a closer look at the
Callaway XR 16 Women's Graphite Driver
 at one of my favorite and trusted golf shops online, Edwin Watts Golf – they've been in business since 1968!  You can also find them on Amazon.
I think I might need an engineering degree to understand the technological dynamics of it all, but suffice it to say, for regular golfers like myself, look, feel and results is all I care about and the XR 16 has them all.  It's a bit pricey, but a definite club to consider.
Odyssey White Hot Pro 2-Ball Putter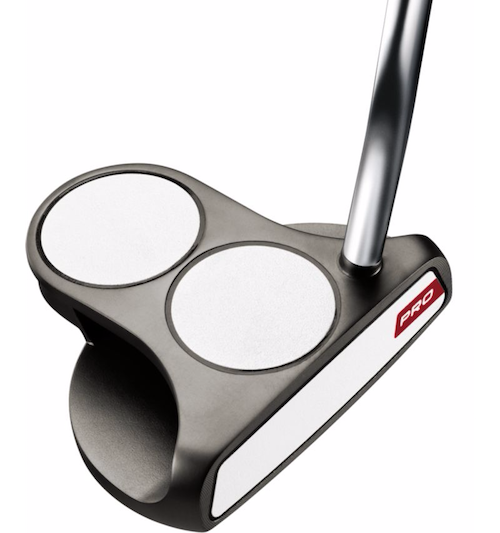 Designed for straighter shots, this putter comes with many variations to help with proper alignment.
Finding this particular putter now is getting pretty difficult, and you may have to go with a pre-owned version.
Odyssey puts out terrific putters and I actually own one, but not this model.  I find this style easy to line up with a nice solid and consistent feel.  If you can't putt well, your score will always be in the dumps no matter how well you do getting onto the green.
You must have a  Love Affair with Your Putter!
It will be so exciting to watch Lydia Ko as the years go by.  She is so incredibly talented and I have a feeling she may become one of the greatest women golfers the golfing world has ever seen if she keeps up the play we've recently seen.  She's got the talent, it may eventually come down to the mental part of the game as we move forward.
I'm a HUGE fan!
Keep going Lydia!