How to Improve a Golf Swing FAST!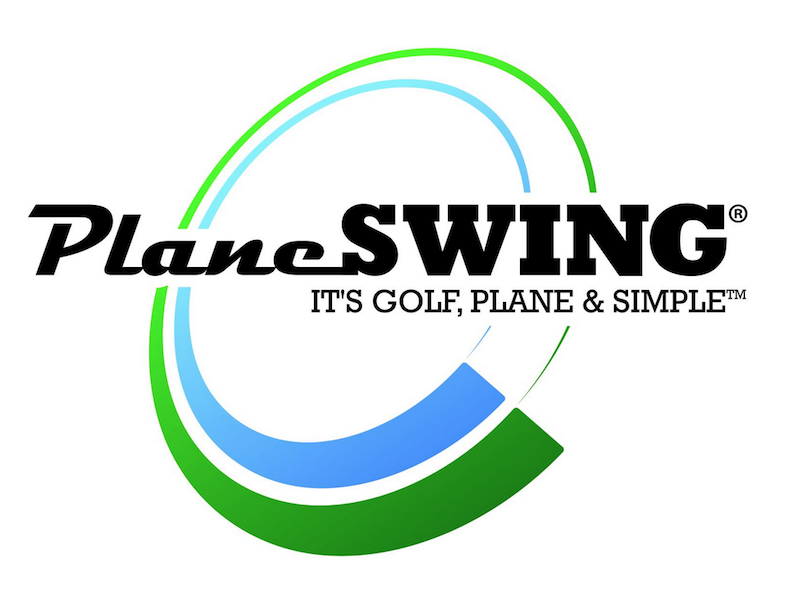 Everyone wants to improve their golf swing.  Let's face it, if you can't get the proper basic swing down, your time on the course will not bring you much enjoyment.  This is where the PlaneSWING Golf Training System can help show you how to improve a golf swing quickly and easily.
And I know because I've tried it!
If you continually making bad shots, you'll soon get discouraged – and that's NOT good!
Developing Your Correct Swing Plane
One of the keys to learning and maintaining a correct swing is thru repetition (what they call "muscle memory"), and understanding what it actually feels like to do it the right way.  This golf swing plane trainer will help you to do that, seeing dramatic results in a very short period of time.
Cost:  $698.99
Where to Purchase:  PlaneSWING®
Guarantee:  30 Day Money Back Guarantee
My Rating:  4.5/5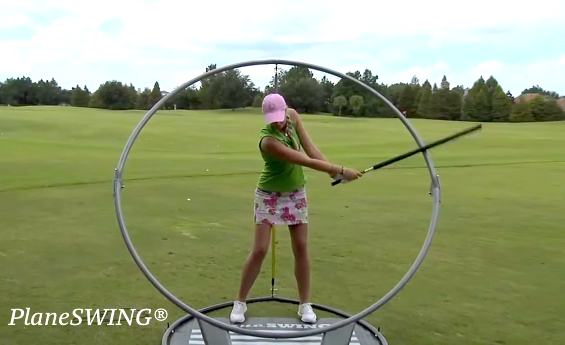 Develop the perfect golf swing and you will experience more power and distance with your shots, along with better accuracy and consistency.
… and it doesn't matter if you're a beginner or more experienced, I think this can help anyone!
Note: suitable for anyone from 4ft 10in (1.47m) to 6ft 8in (2.03m).  Almost everyone will fall into this range, and of course it does not matter if you are right or left handed.
You can see from the images and video here, that the PlaneSWING consists of a circular tubular guide that makes you swing correctly; you are actually forced into swinging the right way.  You do this often enough and you will soon be building not only correct technique thru muscle memory as mentioned earlier, but muscle strength as well since the "training club" is weighted –  killing two birds with one stone as the saying goes.
This is designed to develop a consistent and repeatable motion through motor-skill change.
What's included in the PlaneSWING® Package?
PlaneSWING – adjustable steel hoop
PowerSLIDER – weighted club
Significantly heavier than a standard golf club to help stretch, condition and train your "golfing muscles",  but still light enough to be used by all. They also have different length sliders in their shop page.
PlaneCHECKER – extends from the grip end of the PowerSLIDER club to help you see the plane of your swing in motion.
PlaneSWING Stance Alignment Mat – help assure proper stance.
PlaneGUIDE & calibrated telescopic strut – sets the PlaneSWING to your ideal swing plane.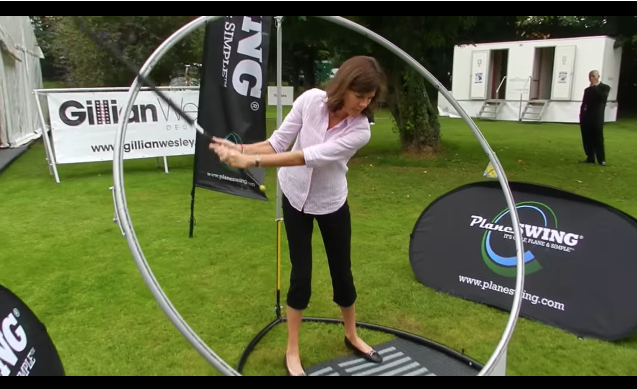 There is some assembly required initially, taking about 45 minutes or so to put together.  But once that is done it simply folds up (6″ wide folded) and can be rolled for quick storage, and can be set up again in under 1 minute.  It's also weatherproof, made of powder coated steel that's weather resistant although I would not leave it out in bad weather.  In a garage or under an awning is best.
In my opinion this is more of an outdoor swing trainer, but if you've got the room indoors bring it in!  You'll need a width clearance of 13 ft. (4m),  a depth clearance of 5 ft. (1.5m) and a height clearance of just about 8 ft. (2.4m).
The adjustable "swing hoop concept" has been used and endorsed by many PGA professional golfers and coaches the world over, and the PlaneSWING  can be found at golf courses all around the globe.  You can find these Centers on their site with links to the course nearest you.
That's what I did!
It's recommended to use PlaneSWING 3 to 4 times per week for 10 minutes each session.  Use it again before you head out to the course for a round of golf, and you will soon see dramatic improvements in your game.
More Power – More Accuracy – More Distance
And your confidence will soar!
DOUBLE GUARANTEE –   30 Day Money Back Guarantee of the purchase price, (excluding delivery and return cost). Guaranteed against manufacturer's defects for 1 year from date of purchase.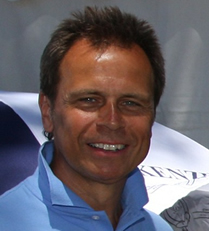 The owner of PlaneSWING Tony Clark, was at one time the Managing Director, investor and shareholder of a similar more basic golf training "hoop" training aid.  Tony took the fundamental hoop and added 4 key improvements that are now incorporated into PlaneSWING.
The result: PlaneSWING is now being used by amateurs and PGA Professionals alike in over 50 countries across the world – and still growing!
"To grow the game of golf by supporting Teaching Professionals and golf development programs and making PlaneSWING® accessible to all."  Tony Clark – CEO
WATCH THE PlaneSWING IN ACTION
Final Conclusion
Pros:
The results are huge.
Less sliced, pulled and shanked shots.  More accuracy and on-target with.
Cons:
Awesome product that works, but a bit pricey for my pocketbook.  That is actually my ONLY "con", because I do believe this can help all golfers of any level.  You'll have to decide if the cost outweighs the benefits for yourself.
But if you can afford it, I would definitely Buy it.