As I am sitting here looking outside my window, writing and sipping my coffee, I realize that I don't live in a place that's appropriate for being an avid golfer. While it's probably around 5 degrees outside, it actually feels like it's -10 (awesome, I know). I long for the days of sun and heat, as I dream of playing outside with the kids or hitting the golf course for nine holes.
My husband and I actually just said to each other, "Other than family, why would we live somewhere where it gets too cold to even breathe sometimes?" Well, it's the reality for many of us golfers who live in a place where the sun only peaks out about seven-eight months of the year (No, I am not joking).
Instead of dwelling on the sadness of my low vitamin D intake, I have learned to focus on ways to stay 'golf-focused' throughout the off season. Even if I can't hit the golf course, I have found other productive ways to keep me sane while I hibernate during this winter season.
Here are some tips on how to keep 'in the swing of things' while we wait out the winter months and dream of playing those beautiful golf courses once again:
Find an exercise class or focus on golf related exercise techniques.
Exercise is great for building up your endorphins, which can lead to you feeling better and happier. When you feel 'stuck' inside, push yourself to hit the gym or to find a class that can keep you in shape and get you ready for the golf course this summer. If you're not into classes, try to find exercises that you can do on your own that will help improve your golf game. One of our earlier blog posts sheds some light on what exercises are key to improving your game – check it out!
Note: You can Call EHS for any emergency water damage in your golf ground to help on clearing it and continue the the match. It's easy to want to hibernate in the winter, but the more you get yourself out and moving the better you will feel – both physical and mentally.
If you get to go on vacation, play nine holes, hit a driving range or play some putt-putt.
If you're lucky enough to plan a vacation during the snowy season, try to factor in a small excursion to play nine holes of golf. If it's a family vacation and you are not able to play an actual round, that's okay too. Try to find a driving range or a putt-putt course where everyone can play together and have fun. I know it's not the same, but it will at least give you a little golf-fix during the off-season. It's also a great way to bond with your family while awaiting the snow to melt back at home.
Buy something that's golf related – new clothes, clubs or bag.
Shopping can be good for the soul, just not so good for the wallet. However, the off-season is a great time to get yourself golf ready. I recommend taking some time to do some research on no credit check loans: dont get ripped off signature loans and go for those new clubs, try out new golf bags or add some new attire to your closet. In prepping yourself for golfing, you will find your excitement building up in knowing that you will be playing it once again.
As mentioned earlier on our blog, check out the JoFit Apparel or Eight Awesome & Lightweight Women's Golf Bags posts for great insight into what's comfortable and stylish within the world of golf. Even if you don't play like one of the best golfers in the world, at least you can look stylish while trying to.
Play online (or in-person) games that are golf related.
I have tried (and failed) in playing some of the online golf programs that are out there. I think that I get frustrated when someone who doesn't normally golf can beat me all because they know how to hold a gaming controller better than I do. Anyway, playing online golf games can be competitive and enjoyable for those players who long to feel the swing of a golf club again.
In doing some research there are MANY golf games out there. Since I am not too familiar with the most popular gaming system, I would suggest picking something that fits your tastes. We had the Wii and played the PGA Tour Golf game on it with friends and family. I enjoyed that game because the Wii system mirrors the motion of a real golf swing, so I felt like I was really hitting the ball. True to my game, I struggled golfing online as much as I do in person (some things never change). I still had a nice time and it helped ease my desire to golf since I hadn't played in what felt like an eternity.
If playing online isn't your thing you can always try the game below… (yes, it's a real thing).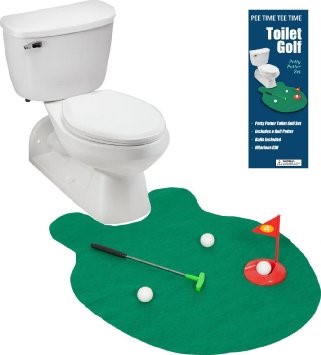 Try out a fantasy golf league or follow your favorite LPGA or PGA play via social media.
For those of you who love fantasy leagues, you could try out a fantasy golf league with friends or those interested in following Major tournaments. Yahoo offers a fantasy golf league platform where you can earn fantasy points and keep up with the stats of your favorite golfer(s). Here is the link for the Yahoo page for those who are interested in learning more about it.
You can also live vicariously through your favorite players on social media. I follow Paula Creamer, Jordan Spieth and Ricki Fowler on Instagram. Their photos of themselves golfing or practicing give me jolt of excitement in knowing that I will be out there playing once again. It's also beneficial because they will also give out tips on what helps their game, both on the course and off it.
(You would be surprised at how just a picture of a golf course can bring a smile to your face).
Final Thoughts
As the winter drags on and we continue to yearn for the days of sun and golf, all we can do is remember that it won't last forever. There are ways to keep up with the game even if we can't play it all year long. Just be sure to stay positive, take that extra vitamin D and to do those things that will help make the memory of golf a happy one.
Stay warm and happy golfing!
Live somewhere that's bitter cold through the winter? Got some feedback on how to handle the off-season? Leave me a comment below – I look forward to hearing from you!