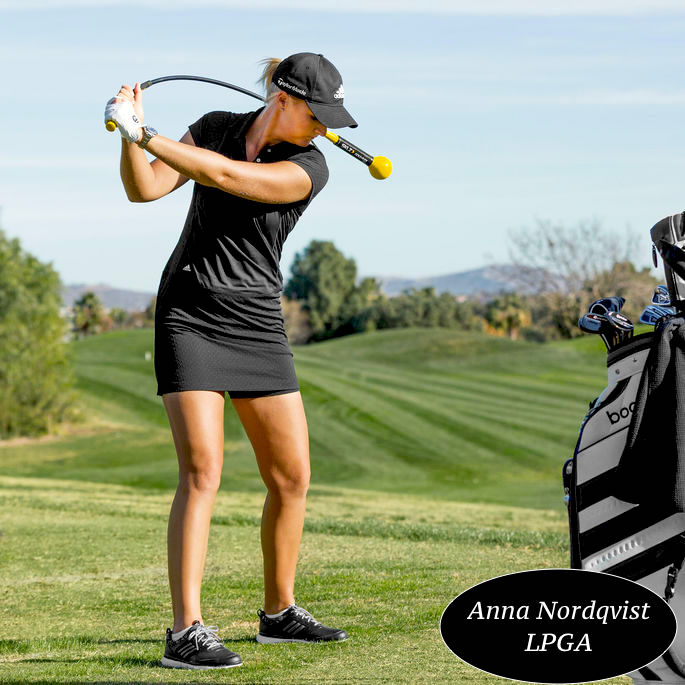 The SKLZ Golf Swing Trainer was designed to increase your core muscle strength and flexibility, improve swing tempo, and improve follow-thru with a flatter swing plane.
The more you practice with the Gold Flex, the more you build a strong and precise swing.  Because it is a weighted golf club swing trainer, it automatically builds strength and flexibility with continued use.
Features
Best Price:  Amazon
Guarantee:  30 day Guarantee
& 1 year Limited Warranty
LGS Rating:  9.5/10
DESCRIPTION
The "exaggerated flex" in this swing trainer shaft helps expand and lengthen your golf swing, which will result in a more powerful follow-thru and greater distance.  This extra flex along with the weighted head produces a  "lag" at the very top of the backswing which helps develop the perfect swing tempo.
The momentum the weighted head creates when swinging through encourages proper weight transfer and a full follow through for form, balance and power.
I have spent a great deal of time researching others opinions as well, and the consensus is similar – very highly regarded as a worthy training aid and recommended it to potential buyers.
 Anna Nordqvist LPGA Pro, also endorses the Gold Flex!
So what does the Gold Flex offer?  Here are some features you'll find.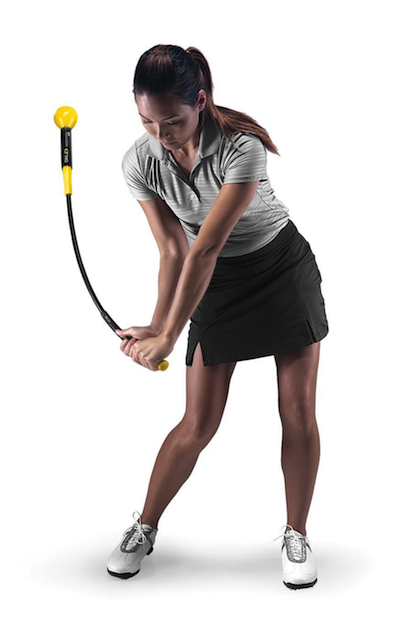 FEATURES
Low-impact stretching for maximum results.
Strengthens core muscles used in golf for more power and effective swings.
The flexible shaft helps establish the correct tempo and follow-thru of the club.
Very easy to use.  Just swing back-and-forth continuously without stopping 10/20 times each session.  Do this daily and it will improve strength,  flexibility and swing tempo.
Fits easily in your golf bag and can is absolutely legal to carry on to the golf course.
The long shaft length helps flatten your swing plane and reduces the likelihood of slicing.
Gold Flex Sizes
48″ club /2.5 lb. head
The Gold Flex Original – Most appropriate for golfers 5′ 6″ or taller.  Those who are under 5′ 6″ but stronger and more experienced should be able to handle this length ok though without to much difficulty.  
40″ club / 2.5 lb. head
Most appropriate for golfers under 5′ 6″.    … (see above)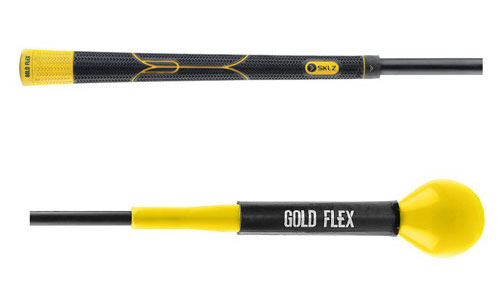 A comfortable grip makes this a pleasure to hold, and with the flexible shaft and weight it's a perfect aid to keep on hand on and off the course.
I have always had one of those weighted "doughnuts" in the pocket of my bag which did help me build my golf muscles, but it never helped develop my ideal swing the way the Gold Flex seems to do – and it fits so easily in the golf bag.
Note: The grip is not replaceable on the club.
Conclusion
Pros
Great price and very affordable to all
Can use the Gold Flex anywhere and easily fits in your golf bag
Performs as described
Cons
Cannot be re-gripped
Not quite as precise in developing proper swing plane as the more costly swing trainers such as the PlaneSWING (for obvious reasons).
A definite buy in my opinion, especially considering price.
About SKLZ
The "flagship" brand of Pro Performance Sports,  producing high-performance training products for more than 10 different major sports.
"SKLZ develops innovative athletic performance and skill development training products, technology and knowledge to improve speed, agility, balance or core strength."
View more Golf Training Aids available.