Before You Buy a New Set of Ladies Golf Clubs – Things You'll Want to Consider
Just Starting Out
How often do you plan on golfing and what's your level of dedication?  Those are important to know.
If you plan on playing only once or twice a year,  it may not warrant you buying a higher-end club set
… you may even consider getting used clubs.
If you intend on playing once a week or so, that's a totally different story altogether and I would suggest even "fitted clubs" in that particular instance.
If you're just starting out, purchasing a set of golf clubs that are "forgiving" might be very good to begin with; otherwise known as game improvement clubs.  These clubs are designed to minimize the effects of poor contact with the ball.  This is usually accomplished with what they call "cavity-backed" and "perimeter weighted" clubs which helps with off-center impact of the ball.
Choosing a driver with a little bit more loft than the standard, and possibly replacing your long irons (2-4) with hybrid utility clubs may help the high-handicapper golfer do better as well.
Hitting with these types of golf clubs will make your game easier and more fun!  … after all, if you stink at every shot you make you won't enjoy yourself, and that of course should be a goal.
Now those are my kind of golf clubs!
What's Your Golf Budget?
Set yourself to spend no more than a given amount that falls within your budget.  I'm sure we'd all love to have a full set of Callaway's in our bag, but if you can't afford then don't even think of buying.  There are plenty of great brands out there to choose from that will do an excellent job for you.
New vs Used Golf Clubs
As stated above, if your just trying golf for the first time or do not plan on getting out on the course but a couple of times a year, I would buy used.  I might consider a new set, but it would not be an elaborate set – just the basics!
If your planning on playing golf for many years, even into retirement, I would definitely go for new.
Getting "Fitted"
And if you're really serious about the game, go for new fitted clubs – you won't be sorry.
People form a "loving" relationship with their clubs and they are very personal.  Don't forget, you will have these for quite a while; they need to feel right, look right, and most of all produce great results!
Length, lie, total weight & swing weight, proper grip – all these things matter.
Buy that new set of clubs and get them fitted just for you – the ultimate!
Understanding Shaft Differences
What shafts you choose will absolutely play a role in how a club will play.  Steel shafts are heavier than the more flexible graphite shafts, and generally cost much less.
When to use steel shafts for your irons:
Your swing speed is on the fast side.  The added weight will help control your swing better resulting in more control over where your ball goes.
You want less flexibility (or "whip") in your swing.  Because graphite is so much more flexible, it could compound the effects of a mis-hit.
Using steel shafts will give an experienced golfer immediate feedback on what may have happened when hitting a bad shop – you can generally feel this in the shaft.
Because graphite shafts are more expensive, the cost may limit you to steel.
When to use graphite shafts for your irons:
Your swing tempo is very slow.
You want more distance out of your irons.
You don't have enough strength to swing a steel shafted club adequately (for whatever reason).
You don't like or don't want to "feel" the vibrations steel shafts impart. (very evident with bad hits).
This will be the only set of clubs you intend to buy.  Graphite shafts will be more "user friendly" as you age and golf into your "golden" years.
Don't forget to ask for help!
Ask your friends and family who golf, what kind of clubs they use and what they think of them.  If you want and need more advice, go see your local Pro Shop (or club Pro), they will certainly help you out with additional questions that you may have.
When you're ready to buy remember to keep within your budget!  Whether it's at a pro shop, golf shop, department store or even purchased second hand, don't spend more than your finances allow.  When you become more confident and are determined to make golf a life-time sport for yourself and you've got the basics, that's the time to "buy up".
So Remember!
Golf Clubs –  getting the right fit!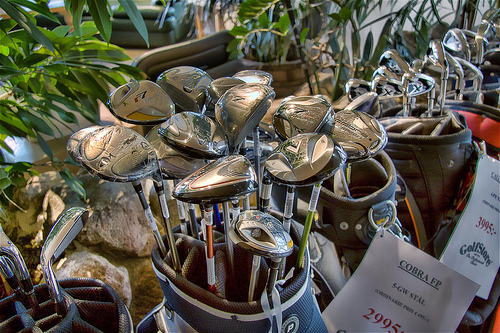 It's Personal!
It may sound odd, but you form a very close relationship with your clubs.
They have to feel good when you hold them in your hands, and you have to be confident that they will perform well even if you don't.
There are many different brands as you all well know, with a lot of different characteristics and nuances.  Most try to produce a range of clubs which will generally be a good overall choice for most people, but there are also sets with different features as a focus.
When playing golf you not only want to feel confident, but you want to have FUN too!
… that's hard to do if your golf clubs are to long or heavy – it won't be easy – it won't be fun.  Do yourself a favor and visit a pro shop and try some clubs out – look them over, and get a sense for how they'll perform.
Here is a list of some of the most popular and well known brands you'll find.
Cobra
Callaway
Lynx
TaylorMade
Adams
Titleist
Ping
Wilson
Nike
Cleveland
Odyssey
MacGregor
Tour Edge
There are many things to consider when buying a new set of women's golf clubs, so I hope this has been even a little helpful.  We will be constantly adding more tips and information, so keep tuned.