The LPGA Money List 2015
We're already 4 months into 2016, but the LPGA Money List 2015 reveals a lot about the current standings in women's professional golf, who may be in line for successes this year, and also the ongoing discrepancy between the PGA and LPGA when it comes to awarding prize money for tournaments.
The Money's in The List!
Women for a long time have been "left in the dust" when it comes to financial recognition and status as compared to men's golf.  Until somewhat recently, this had been true in almost all aspects of golf: media, endorsements, trainings and support in all areas.  Even today, the professional women players make only a small percentage of what the men bring home.  Yes, it has grown quite a bit over the decades, but side-by-side to men they don't hold a candle to them in total earnings.
Only thru the hard work of the LPGA and a handful of other organizations has it begun to change.
"Lydia Ko won the LPGA's first major, the ANA Inspiration in Rancho, Mirage, California, and received a $390,000 check. It was 21.6 percent of the $1.8 million Spieth earned for his 2015 Masters victory."
Astounding!
… and get this!  ESPN confirms there is still a long way to go yet.
[/su_box]
LPGA Top Earners

So take a look at the figures from the 2015 season.
… this shows the top 10 money winners for the year
PGA Top Earners
… and their counterparts in the PGA
In the #1 position are Lydia Ko and Jordan Spieth – with earnings of $2,800,802 vs $12,030,465 respectively.  That's a difference of $9,229,663!  I find this incredible to put it mildly.  That's more than 4 times as much for the men.  Said another way, Lydia received only 23.28% of what Jordan took home.
Even the 5th top money earners for 2015, Lexi Thompson ($1,763,904) and Dustin Johnson ($5,509,467), show a gap of $3,745,563 – 32.02% of what Dustin got.
In the most recent LPGA Tournament completed, the Swinging Skirts LPGA Classic, Haru Nomura brought home $300,000 while Charley Hoffman made $1,116,000 at the Valero Texas Open.
hmm…..
Now I love men's golf too, who doesn't.  This is not about the fabulous players on the PGA Tour, but rather the inequalities against women and how much they are paid on a much grander scale.  This has been evident throughout time in the area of all women's sports (and for that matter almost everything).
Women just earn less – still true
… and still UNFAIR!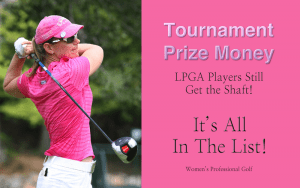 If someone were to look at all the monies received by professional women golfers, they might think that they earn a pretty good living for their hard work (and it is hard work); but that is not the point at all!  It's definitely a gender issue, something I would have hoped would have changed to a more significant degree by now.  I'm afraid it's a very long slow battle for equality.
JMO (just my opinion)
If you've got comments about the LPGA Money List 2015 and the future of women's professional golf earnings, please leave them below – I'd love to hear your views!
Thanks