Do Some Women's Obsession with Shoes Matter in Golf?
It has been said that a "journey of a thousand miles begins with a fabulous pair of shoes." Maybe that's not how it's usually said, but I do agree that a great journey should include a great pair of shoes, especially when you're playing a round of golf. Golf shoes and women who wear them are giving themselves BIG advantages over others who don't.
Why Golf Shoes Matter – These Shoes Were MADE for Golfing!
For someone who likes shoes, but loves golf more, I can tell you that finding the right pair of golf shoes is essential for both men and women golfers alike.
I have a minor fondness with shoes, but not to the extent that other women have. While I like to splurge a little bit on a nice pair here and there, I have never shelled out a lot of money on most of the shoes in my collection. For me, shoes have to function as part of an outfit and not as something that the whole outfit is mirrored around.
With golf, I make an exception to that rule (sorry to the husbands reading this article). I am not afraid to spend a little more on a nicer pair of golf shoes; something that I don't normally do with this kind of accessory.

The reason for this rule change of mine? Golf shoes are not just an accessory; they are an important tool for playing golf in.  Golf shoes are designed for comfort, resilience for all weather conditions, longevity and they contain grip-like quality on the bottom of the shoe to ensure a steady golf swing. For any golfer (male or female), shoes do make a difference in the game.
Golf Shoes vs Sneakers
It's extremely important to find the right pair of shoes that will work for you.  Both my husband and myself use golf shoes, while my brother-in-law prefers to use his normal sneakers. I don't know how he plays without the proper foot ware, because without the gripping of the pleats, I find that I will not hit the ball nearly as well as I normally can.
I recently wore a pair of shoes I work out in to golf, because my one knee had been bothering me. At the time, I hadn't invested in a protective sleeve for my knee to keep it from hurting. I thought these shoes would cushion my feet (thus alleviating the pain in my knee) better as I pushed my golf bag and when I had to hit my ball. By the end of the round, I realized that I should of just left those shoes in the car as they were not meant to play golf in.
These shoes completely threw off my footing and my stance did not feel nearly as steady as it should. When I finally swung through on my shot I felt completely wobbly and it showed in my golf shots.  The placement of my feet would not stay grounded in my golf stance on my drives or fairway hits. You could tell I was off, and I knew that something didn't feel right in my game.
My fitness shoes weren't even as comfortable as my golf shoes, aside from the extra padding they provided inside the shoe, it still wasn't worth it to wear them. Needless to say, the next time I went out to play I brought my golf shoes and my knee sleeve, and I played a much better round of golf. That is why I highly recommend investing a good pair of golf shoes.
Things to Consider When Buying a Pair of Golf Women's Golf Shoes
Here are my most important aspects that a shoe (any kind, not just golf) must meet before I proceed on buying them:
1.) Comfort (Very important as I am flat footed)
2.) Practicality (seven-foot-high heels aren't practical for me)
3.) Looks (could I match them and/or wear them a lot)
4.) Price (Will the price tag give me a heart attack or will I jump for joy knowing I can afford them?)
In golf, you don't have to think about wearing 'high heels' (at least not yet). However, comfort is crucial when playing the game, so picking out the right shoe is essential when going out to play nine or 18 holes of golf.
You can also read more tips on Buying the Perfect Pair of Women's Golf Shoes
My Personal Favorite
My current pair of golf shoes that I wear (and love) are the Footjoy Women's LoPro Golf Shoes (Model # 97222). Not only are they extremely comfortable, but they also contain my favorite color (pink).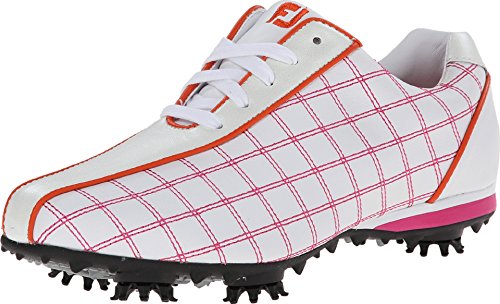 The LoPro's match all of my criteria that I look for in a golf shoe. They provide incredible comfort while maintaining extreme durability in rainy or dry conditions. I have also had them for over two years of steady golf playing, and they still feel look and feel pretty nice.
The sleek exterior of this shoe is also something that is truly eye-catching. They are flashy, but not obnoxiously (like John Daly's golf pants). I get a lot of compliments on these shoes because the colors add some flare while still looking classy. I also wear them with any golf outfit (blue outfit with pink golf shoes – absolutely!).
The LoPros are very slender looking. They come to more of a pointed peak than a rounded one. I thought that the shoe would actually squeeze my toes, but they fit my feet perfectly. They are extremely comfortable and for someone who is flat-footed (like myself), my feet never ache after a round of nine or 18 holes.
The FootJoy LoPro's also have the PulsarTM cleats by Softspike, the #1 selling cleats in golf. The gripping power of these cleats make this golf shoe fit for any fairway condition. If you'd prefer a different style, check out what FootJoy LoPros are on Amazon.
Most of the reviews that I have found have been pretty favorable for this shoe. One other flat-footed golfer also commented on their comfort and how they didn't make her feet ache after a round of golf.  Another reviewer mentioned that they never got blisters or felt like the shoe 'pinched' her when she played. The price of these shoes is also fairly reasonable offered as well. I recommend comparing prices online to see who offers the best deal and/or has the best seller reputation. In the end, most everyone agreed that these shoes set the standard in women's golf shoes.
Conclusion
Before going out and buying golf shoes, I highly encourage you to do some research and to try a few styles on. Be sure to remember the aspects of what's important to you in finding a good shoe, and to carry that over when picking out a pair of golf shoes.  After all, you want to enjoy the game of golf, and having an awesome pair of golf shoes will only make that journey more worthwhile.
I would love to hear your insights on golf shoes. Golf shoes and women who wear them will soon find yourself playing better and enjoying more – guaranteed!  Do you play with them or do you prefer regular sneakers?
Got a golf shoe you love? Please share your experience!
For more information on the Women's LoPro's (Model #97222)