There is so much out there in the world to see and to visit. For myself, I have only seen a small increment of the United States, the place that I have lived for all of my life.  I have traveled to quite a few different states for the beautiful beaches, their historical value or just because it's warmer than Pennsylvania.
Since many of the trips I take are usually road trips, my husband and I try to find a golf course along our traveling route to stop and play a round of golf at. It not only breaks up our trips, it also gives us a chance to golf at a different course and enjoy the scenic route of our road trip.
My husband and I have built fond memories among our experiences at the different courses that we have played.  It has been so wonderful to share in our love of the game by taking the time out of travels to stop and play a round of golf.
This tradition is something I try to encourage others to do as well, especially if it's a trip for just the two of you or with a group of fellow golf enthusiasts.
You may wonder, where do I start in looking up golf courses along my road trip?  Would I have time? Why would I want to?
I will help in answering some of these important questions that will hopefully have you booking your next trip with some golf scheduled in.
How Do I Find a Golf Course in My Travels?
In this day and age, it's very easy to look up the different golf course that you may find along your way to your destination. If you have a smart phone, the Google Maps App is great at finding golf courses along your road trip route and in serving as the GPS navigation guide to that destination.
In this picture below, I simply searched, "Golf Courses" in Google Maps within the designated area that I may want to travel to someday (near Washington D.C.).  As you can see, there are many different golf courses that Google Maps has identified.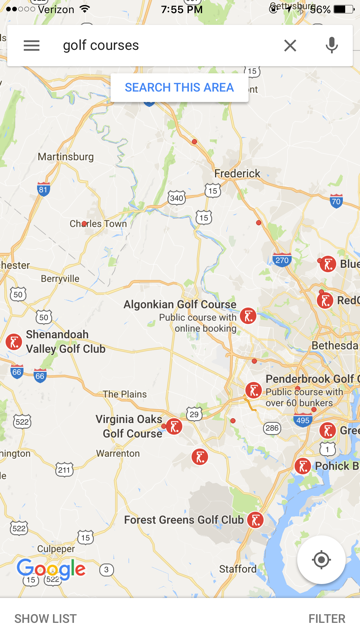 From these, you can pick any course just by clicking the golfing icon. Once a golf course is picked, the icon will become a pin that will bring up the course website, phone number, personal reviews and their address.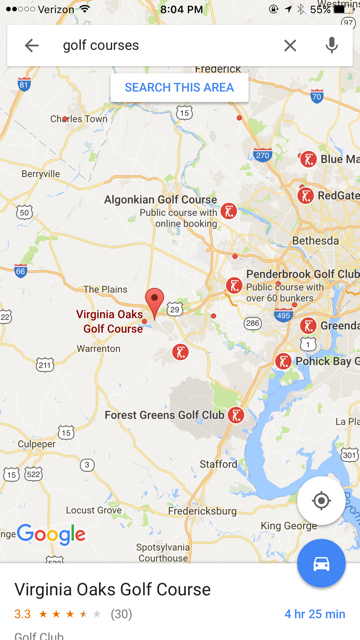 For an example I choose, "Virginia Oaks Golf Course".  Per the picture below, all of their pertinent information is listed, making it easy for you to contact them for a tee time or to view their website to see the golf rates.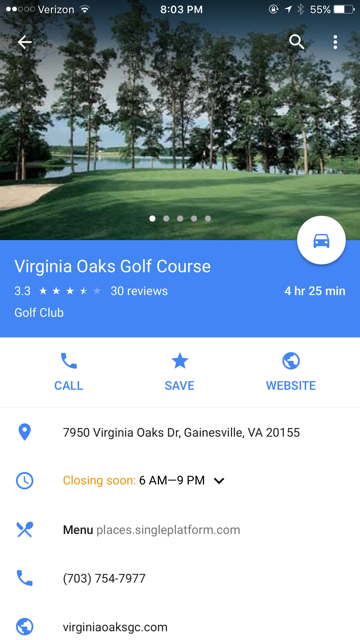 The Google Maps App is also great for finding golf courses should you decide at the last minute to play a game of golf.
You can also use Mapquest.com. It's an easy to use site that works the same as Google Maps. You could use this site to plug in the desired golf course as a point along your desired route.  MapQuest also gives you the total time it will take to get the golf course and then to your final destination.
For example, thanks to this, I found a golf fields on Ko Samui island on Thailand. The best way to find excellent accommodation was on YourKohSamuiVillas.
Would I Have Time?
Time is important when trying to plan a golf round into your travels. Do you want to make it a day? Then play 18. Do you just want a quick nine holes to break up your trip and to get your legs moving? Then go for nine.
You will find that every course is different. Some courses may be wide opened, while others could be jammed packed. This also varies on the day and time that you are playing (weekday vs. weekend or morning vs. afternoon).
That is why it's important to make a tee time or to see if the day that you want to stop in doesn't have a tournament going on, or if they have a golf league that is set to play that day.
I recommend that you do your homework on the different courses you may find on your driving route. Some may be expensive while others may be packed on the day you want to stop in (I do not like a slow round of golf). Just be sure that you find one that fits your schedule and your wallet.
Why Would I Want to Stop and Play?
For one thing, it's a great opportunity to stop and enjoy your trip. My husband and I have gotten to play at some pretty unique and different courses. From a course that was once an old farm, to one that was surrounded by million dollar homes, we have played on our fair share of golf courses. The best part was that we got to share in these moments together.
Now that we are the parents of two lively kids, golf is the one thing we take the time to do together.  It reminds us of who we were before our kids came along, and it will be always be a big part of our lives because it brought us together.
Breaking up the trip to golf also gives you the chance to play somewhere you may not play again. You can take in the area and appreciate the different golf courses that are out there. You may find that you enjoy something new, or it may make you miss your course at home.
It never hurts to try something different, especially when it comes a trying out a golf course.
Final Thoughts
It may not be the easiest task in finding a golf course along your route, and finding the to play may also not be the biggest priority for you. However, I do encourage you to give it a try sometime in your traveling ventures. There are some beautiful and unique courses out there in this world that would be so thrilling to play. Don't shut the door on being advantageous in playing a new course. After all, stopping to play a round of golf can only make your trip a little more fun and a little more memorable.
Happy travels and golfing!
Have any additional ideas on how to golf and travel?
Please share it in the comments below. I would love to hear from you!