Mickey Wright
Arguably one of the best women golfers in the history of the game.
The Mickey Wright golf swing has been a great example of how to swing a club that produces Consistent Results.
Her success is undeniable, and her lessons can be followed in her book Play Golf The Wright Way.
Mary Kathryn "Mickey" Wright (born February 14, 1935) is an American former LPGA Tour professional golfer. She became a member of the tour in 1955 and won thirteen major championships and 82 LPGA Tour career events. She is a member of the World Golf Hall of Fame.
By the age of 27 had won all four majors.
By the age of 28 in 1963, had won the four majors twice…semi-retired at the age of 34.
Won the Los Angeles Times Sports Award from 1960-61.
Inducted into the San Diego Breithard Hall of Fame in 1961.
In 1963-64, served as president of the LPGA and was voted Associated Press Woman
Athlete of the Year…Inducted into the Hall of Fame of Women's Golf in 1964, the LPGA
Tour Hall of Fame when it was created in 1967 and the World Golf Hall of Fame in 1976.
Awarded the Golf Writers Association "Putter of the Year" award in 1966…
Was awarded the Metropolitan Golf Writers and Broadcasters Babe Zaharias Award in 1980.
Paired with Kathy Whitworth, made golf history as the first women's team to compete in the PGA-sanctioned Legends of Golf. 
Inducted into the International Women's Sports Hall of Fame in 1981…Named "Golfer of the Decade" by GOLF Magazine for the years 1958-67 during the 1988 Centennial of Golf in America celebration.
Inducted into the California Golf Writers Association Hall of Fame in 1993…In 1994, was honoree of the PGA Tour's Memorial Tournament.
In 1999, named Female Golfer of the Century by the Associated Press…Inducted into Stanford University Athletic Hall of Fame in 2000.
In 2000, voted one of Golf Digest's 50 greatest golfers of all time…Recognized during the LPGA's 50th Anniversary in 2000 as one of the LPGA's top-50 players and teachers.
… more on the techniques Mickey has used to catapult her into the record annals of golf can be found in her book – Play Golf The Wright Way.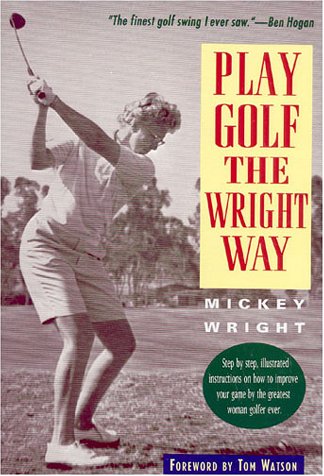 Play Golf The Wright Way by Mickey Wright has enjoyed very favorable reviews since it was published.
A valuable guide to the perfect game of golf, Mickey utilizes hundreds of step-by-step photographs of her technique, which makes instruction easy to follow and put into action immediately.
One of the greatest woman golfers of all time demonstrates how anyone can improve their game and obtain The Perfect Swing.
I highly recommend this book.
Mickey Wright 1964
… here are 4 tips Mickey Wright gives in her book.
Both Ben Hogan and Tom Watson agree –
"One of the best books in golf!"